Packaging Designed For Premium Pet Care
Pets come in all shapes and sizes, not necessarily all furry! At Layfield, we craft custom-made packaging solutions to meet the specific needs of your pet products. We can design the perfect package for light to heavyweight products to fit your needs!

Sustainability Packaging
Our sustainable packaging options use less material and require fewer resources to produce and transport than other packaging formats holding similar product volumes. Its versatility and customizability make it an excellent fit for a wide range of products, reducing waste and saving resources. But its most significant benefit is that it can be designed with recyclable content and recyclability, further reducing its carbon footprint. With our PCR and How2Recycle pre-qualified store drop-off options, you can choose our sustainable packaging, knowing that you're making a positive impact for the future.

Puncture Resistance
Our cat litter packaging stands out for its exceptional puncture resistance, providing superior durability and protection against tearing, puncturing, and abrasion. The material's high tensile strength and tear resistance also ensures the bag remains intact even under harsh conditions, including sharp claws and rough handling.

Exceptional Graphics
Customers are often drawn to packaging designs that are visually appealing and unique. A well-designed package can catch a customer's eye and communicate key messages about the product. This is particularly important in a crowded marketplace where many similar products compete for attention. Our packaging offers a canvas for brands to convey their messaging, utilizing various printing techniques, from registered varnishes to specialty matte or gloss finishes, to high-resolution Rotogravure graphics. Stand out on a shelf in a competitive environment and attract your consumers' attention.
Additional Features
High resolutions Rotogravure Printing both sides (up to 12 colours/varnishes)
Clear Product Windows – contents are visible
Customizable bag formats depending on size and weight (up to 50 lbs.)
Flat Bottom and Pinch Bottom options
Barrier properties to improve shelf life (if required)
Various zipper / press to close options
Various sustainable options
Various venting options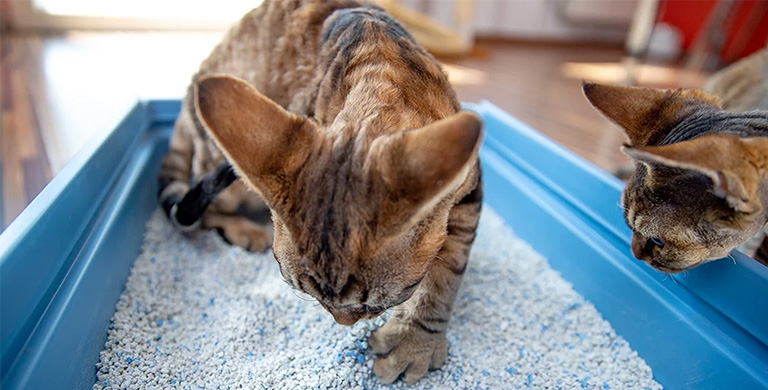 Formats
Pets come in all shapes and sizes, not necessarily all furry! At Layfield, we craft custom-made packaging solutions to meet the specific needs of your pet products. From heavyweight litter to bedding, we can design the perfect package to fit your needs!
Also known as the box pouch, this packaging style can be considered a next-generation format. Constructed from 5 panels, these bags offer similar benefits as the stand-up pouch and have quickly become a popular choice for brands aiming for a premium look.
Premium looks and finishes
Provides great stability
Increased printing surface area
Pinch-bottom pouches are the ideal format for medium- to large-content products, and are frequently seen within the dry food section of the pet industry. They are usually displayed lying flat on the product shelf.
Stacks well on top of each other
Provides optimal palletization
Premium look and finishes
This film is fully customizable and can be modified into the exact dimensions (width and length) that you want.
Food processors and service operators can place their trust in Layfield for procuring cutting-edge Vertical, Form, Fill & Seal (VFFS) film structures that cater to the needs of your liquid food products.
Higher seal integrity
Can be modified to fit your needs e.g., add a dispensing spout
Customized barriers for required shelf-life
Also available for retort applications
Pelleted litter

Shavings

Shredded paper

Bedding