Happy & Healthy, From Nose To Tail
Raw pet food is an excellent choice for pets who suffer from allergies and can't consume certain ingredients or have sensitive, reaction-prone stomachs. Less processed than other types of pet food, raw food also retains nutrients to help ensure pets get a healthy meal.
Various commercially-produced raw products are available in refrigerated, frozen, or freeze-dried formats. Frozen pet food is traditionally healthier because it is made with leaner meats and fewer preservatives.

Maximize Freshness & Shelf Life
Our packaging provides superior protection against external factors that can compromise product quality. Raw pet food stays fresh for longer, reducing the risk of spoilage and ensuring a longer shelf life, both at the store and with the consumer. The airtight seal of our packaging keeps oxygen and moisture out, two of the most common culprits of spoilage. Additionally, our packaging is designed to withstand various temperatures and environments, ensuring that your raw pet food stays fresh and nutritious no matter where it's stored or transported. With our packaging, you can be confident that your customers are receiving the best possible product, and they'll thank you for it by returning for more!

Exceptional Graphics
Customers are often drawn to packaging designs that are visually appealing and unique. A well-designed package can catch a customer's eye and communicate key messages about the product. This is particularly important in a crowded marketplace where many similar products compete for attention. Our packaging offers a canvas for brands to convey their messaging, utilizing various printing techniques, from registered varnishes to specialty matte or gloss finishes, to high-resolution Rotogravure graphics. Stand out on a shelf in a competitive environment and grab your consumers' attention.

Durability & Product Protection
The packaging experience of your customer affects their opinion of your entire brand. Delivering an undamaged product that is fresh and safe for their pets will give them peace of mind. Our packaging is durable, lightweight, and provides excellent protection for raw pet food. It creates a barrier against bacteria and other contaminants, keeping your pet's food fresh and safe. It is easy to store, transport, and customize and ensures the quality of your product.
Additional Features
High resolutions Rotogravure Printing both sides (up to 12 colours/varnishes)
Clear Product Windows – contents are visible
Customizable formats depending on size and weight
Barrier properties to improve shelf life (if required)
Various sustainable options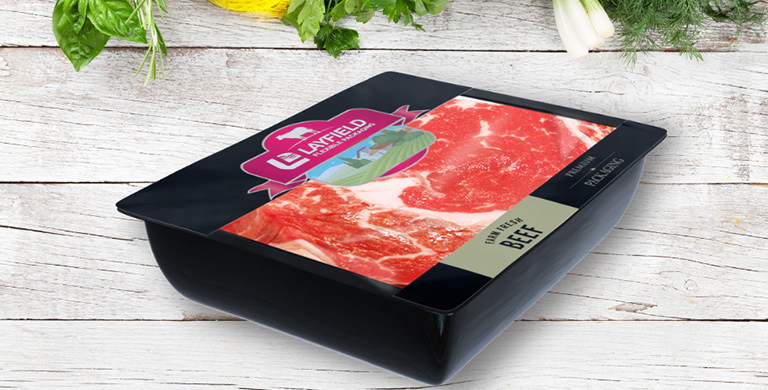 Formats
Layfield's packaging is designed to meet the highest standards of quality and convenience. Our bags are perfectly suited for all of your raw and frozen pet food, treats and snacks.
This film is fully customizable and can be modified into the exact dimensions that fit your packaging requirements.
Ultimate flexibility — make any shape for pouches or bags
Requires less inventory floor space
Customizable barrier options depending on consumer applications.
Layfield's lidding films provide utmost convenience to customers by enabling them to effortlessly peel off the film from the container, all the while safeguarding the quality and shelf-life of your product.
Seals through contamination, minimizing potential leaks
Performs well with various cups or premade containers
Maximum film strength to protect your product through distribution.
These tailor-made films provide outstanding performance when it comes to storing & protecting your products. They are highly adaptable and can be easily modified to suit your various applications.
Exceptional seal properties that efficiently replace conventional zippers
The film acts as an oxygen barrier
Smooth peeling properties for ease of opening
Bones (Whole or Ground)

Meat

Raw eggs

Some fruits & Veggies