Achieve up to 70% in aggregate savings
Aggregate reduction is critical in working towards a sustainable future. There are many ways that geogrid technology
can reduce your need for aggregate, saving costs and reducing emissions. Tensar's InterAx® geogrid was specifically
designed to provide greater overall cost savings through thinner aggregate layers and more fill options.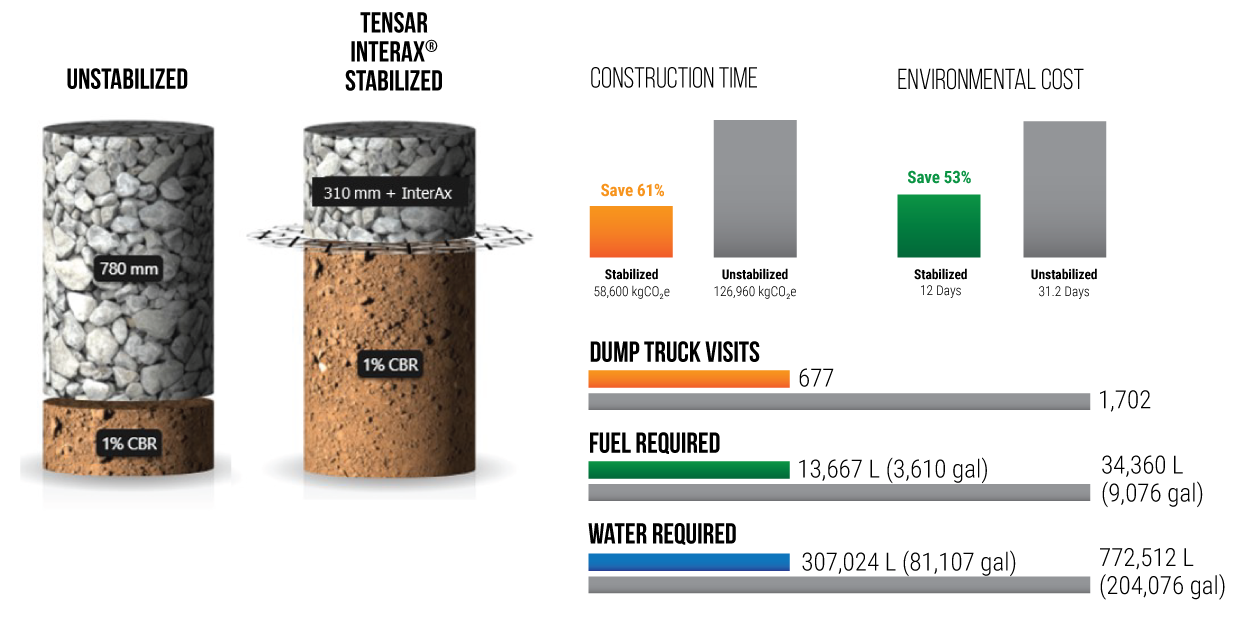 Geogrids can provide significant cost savings at the point of construction:They reduce the number of earthworks
needed for engineering projects, and they accelerate construction and improve long-term performance, facilitating lower
incidences of repair and the associated disruption.

Direct Cost Savings
Save on transportation, construction and material costs by incorporating geosynthetics as an effective alternative for high-priced aggregate.

Increased Safety
Reduce truck traffic for a safer job site. Less traffic reduces the occurrence of unexpected debris falling onto roadways.

Minimized Carbon Emissions
Geosynthetics reduce CO2 emissions by requiring less aggregate thickness and fewer trucks for material transportation.

Resilient Infrastructure
Strengthen compacted aggregate layers with geosynthetics that exhibit better load-bearing performance than layers twice as thick with aggregate alone, prolonging the lifetime of your infrastructure and reducing long-term maintenance costs.

Accelerated Project Delivery
Accelerates project delivery by reducing construction time. With decreased aggregate requirements, the placement process becomes quicker, resulting in faster construction completion.

Built to Last
Will withstand severe weather events, the increasing impact of climate change, and other challenging environmental conditions.

Acquiring aggregate presents a critical obstacle.
Obtaining high-quality aggregate poses a significant challenge nowadays. The scarcity of aggregates has become a major nationwide concern, resulting in escalating prices that subsequently drive up project costs.
To address this issue, exploring geosynthetic alternatives that can effectively replace or minimize reliance on traditional sand, gravel, and other aggregates in various applications like roads, foundations, and drainage layers is imperative. Considering these alternatives, we can tackle the aggregate shortage while maintaining the required performance and quality for construction projects.
To Learn More About How Tensar® Geogrids
can help, contact us via the form below.
"*" indicates required fields