a viable option to earth excavated ponds & reservoirs
The Concept Tank™ is one of the world's most secure, economical, and environmentally friendly fluid management and potable water solutions. It's a big claim, but Concept Tanks backs it with industry-leading research and analysis from satisfied customers and independent bodies. Find out how we can help solve your challenges today.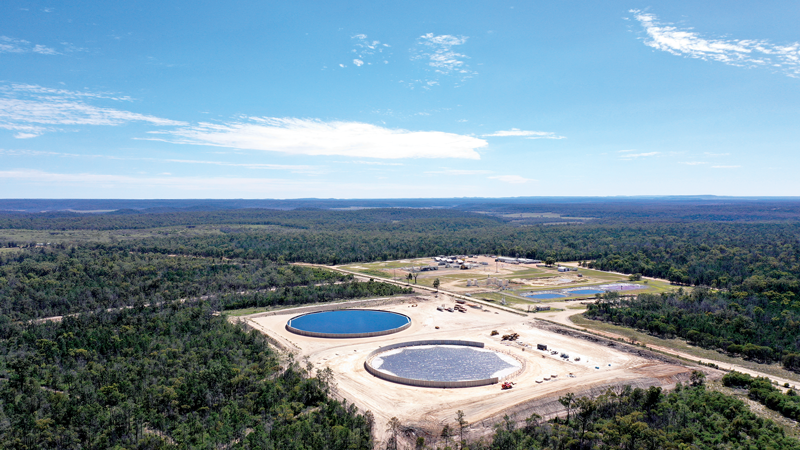 The Concept Tank™ is the world's largest relocatable water storage tank. Ranging in size from 12 Million Litres (3,170,064 Gallons) to 100 Million Litres (26,417,205 Gallons), the modular, precast concrete panel tank is quick to install, requires no concrete foundations, and can be relocated and resized as required.
With multiple containment layers and monitoring systems, the Concept Tank™ offers the highest standard of fluid storage on a mega scale.
Offering up to a 25-year design life, the relocatable Concept Tanks™ are constructed for various applications, including:
Dewatering
Drilling support
Potable water storage
Process Effluent
Produced water storage
Raw storage
RO Brine storage
Tailings
Truck refill stations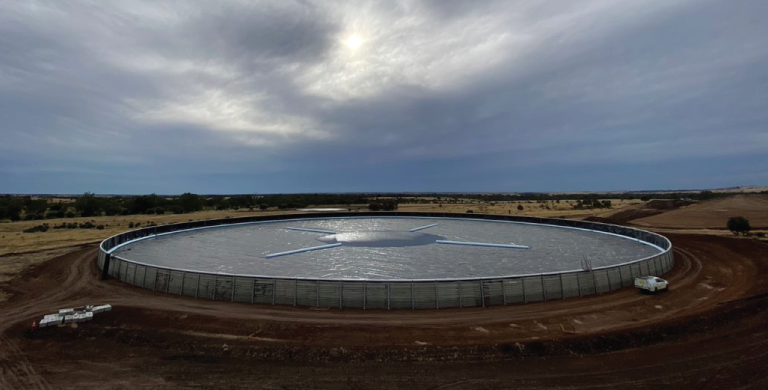 CONCEPT Tank™ Sizes

CAPACITY | Diameter
• 12ML (3,170,064 gal) —70m (229.6 feet)
• 15.5ML (4,094,666 gal) — 80m (262.4 feet)
• 25ML (6,604,301 gal) —110m (360.9 feet)
• 40ML (10,566,882 gal) —130m (426.5 feet)
• 55ML (14,529,462 gal) — 145m (475.7 feet)
• 75ML (19,812,903 gal) — 170m (557.7 feet)
• 100ML (26,417,205 gal) — 185m (606.9 feet)
What are the benefits to the Concept Tank™ Solution?
Our innovative solution provides greater benefits compared to traditional storage methods.

Safe
Concept Tanks adheres to the strictest safety protocols during every stage of construction. All tanks are well engineered and lined using NSF 61 certified Enviro Liner® geomembranes.

Sustainable
Concept Tanks™ offer a superior solution over traditional fluid storage methods by significantly reducing the environmental impact on the immediate and surrounding area.

Fast Installation
Due to its unique, modular design, Concept Tanks™ have rapid installation times, giving greater flexibility to project timelines.

Minimal Earthworks
Our tanks sit on a 30% smaller footprint than traditional solutions and only require a hardened earth pad foundation, requiring minimal earthworks and remediation works.

24/7 Remote Monitoring
Concept Tanks offers remote monitoring through its back-to-base SCADA software, allowing asset maintenance teams to monitor plant function and schedule maintenance.

Cost Savings
Concept Tanks experienced field team and patented design allows for 75% faster construction at up to a 40% lower cost over alternative solutions.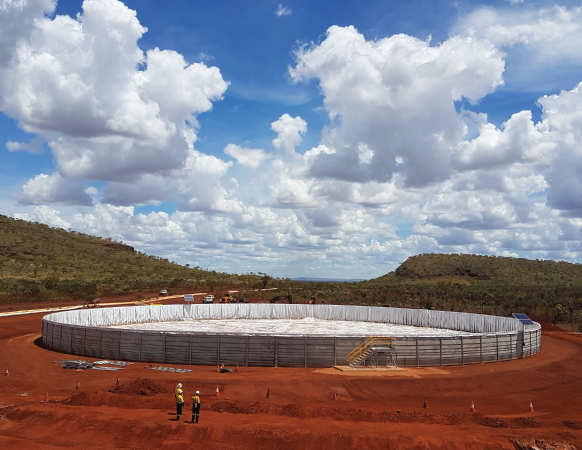 Case study
56ML Concept Tank™ – Dust Suppression
Concept Tanks was engaged by a client to develop a solution to complex dust suppression requirements in remote Western Australia. This Pilbara-based project saw our in-house design team solve various environmental concerns through an innovative Concept Tank™ and cover design. The walls of the 10ML Concept Tank™ were raised to keep local fauna out, and the tank was equipped with a satellite leak detection system to keep operators informed remotely. A floating cover was also designed and installed to protect from seed and dust contamination.
The project took 2 months to complete, leading to significant cost savings for Monadelphous while remaining environmentally friendly.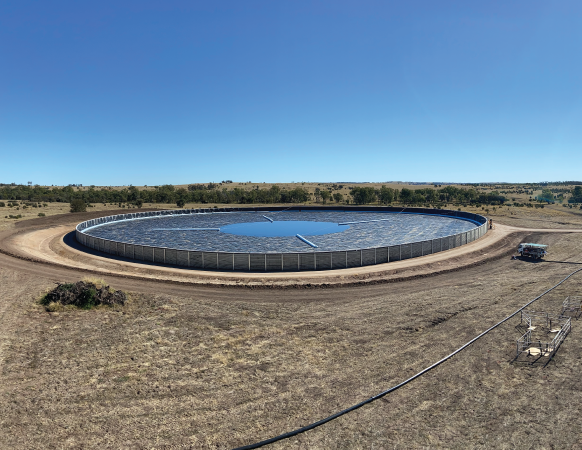 Case study
10ML Concept Tank™ – fluid storage
A client engaged Concept Tanks to assist with fluid storage for its operation in Australia, producing natural gas for domestic supply. The complex natural gas project required an immense 100+ML brine storage solution, which Concept Tanks was able to deliver quickly and efficiently.
The Concept Tank™ solution involved deploying two 56ML modular concrete tanks in just two months. The Concept Tank™ system was designed with various safeguards for the harsh conditions of the region. The double-liner featured water tube ballasting to ensure liner integrity at any water level; a must when dealing with evaporation in extreme climates. Radar level sensors are monitored remotely, and a sealed poly sump provides added durability compared with conventional options.
To Learn More About How concept tanks
can help, contact us via the form below.
"*" indicates required fields