We are pleased to announce that The Geosynthetic Institute (GSI) has added Layfield Canada Ltd. to its repertoire of Geosynthetic Accreditation Institute's-Laboratory Accreditation Program (GAI-LAP) accredited tests. Our Edmonton lab is now accredited for the following six (6) test methods until June 30, 2024.
1. ASTM D792 Test Method for Specific Gravity (Relative Density) and Density of Plastics by Displacement
2. ASTM D1238 Test Method for Flow Rates of Thermoplastics by Extrusion Plastometer
3. ASTM D4218 Test Method for Carbon Black Content in Polyethylene Compounds by the Muffle-Furnace Technique
4. ASTM D5199 Test Method for Measuring Nominal Thickness of Geotextiles and Geomembranes
5. ASTM D7005 Test Method for Determining the Bond Strength (Ply Adhesion) of Geo composites
6. ASTM D7179 Test Method for Determining Geonet Breaking Force
There are often times where GAI-LAP lab accreditation is a requirement on project specifications.  We are now able to comply with our in-house lab in Edmonton rather than sending out to a third party.  It also allows us to benchmark against the other industry labs to ensure our testing procedures and equipment are properly calibrated.
Congratulations to our QC team for this milestone accomplishment!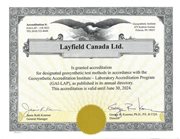 September 15, 2023
Employee Spotlight — Leo Gutierrez, Senior Estimator & Project Coordinator
Read Article