Demanding Applications Need Secure and Durable Secondary Containment Systems
A HAZGARD® geomembrane provides the strength and durability required for secondary spill containment. Uniquely resistant to a wide range of chemicals, including hydrocarbons, solvents, acids, bases, and salts, HAZGARD® geomembranes are some of the most chemically-resistant materials available today.
Available in three material formulations, this family of geomembranes provides secondary containment for a wide variety of buried and exposed applications. HAZGARD® geomembranes are manufactured in a distinctive and highly visible red color for easy identification.
What Makes HAZGARD® The Right Product For You?

Available Cost Savings and Superior Quality
Ideal for factory prefabrication, resulting in consistent welding with guaranteed results. With HAZGARD®, you will save time and money during installation.

Highly Visible Red Coloring
The distinctive red color provides clear identification in buried applications.

Excellent Chemical Resistance
Designed for Secondary Containment of flammable and combustible liquids including gasoline, diesels, jet fuels, oils, and lubricants.
Additional Features
Fuel resistant, flexible geomembranes
Easily installed in a wide range of applications
Can be prefabricated in single-piece liners
Red color acts as a marker in buried applications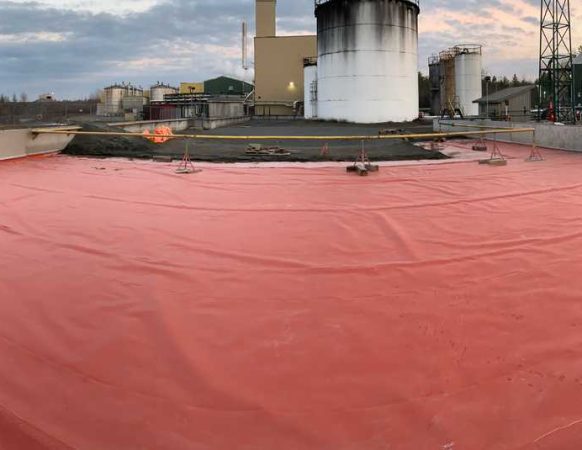 HAZGARD® 635FR
This unique fire retardant secondary containment geomembrane is an excellent lining material for the containment of flammable and combustible liquids, including; gasoline and alcohol-blended gasoline, diesel and biodiesel-blended diesel, jet fuels, oils, and lubricants.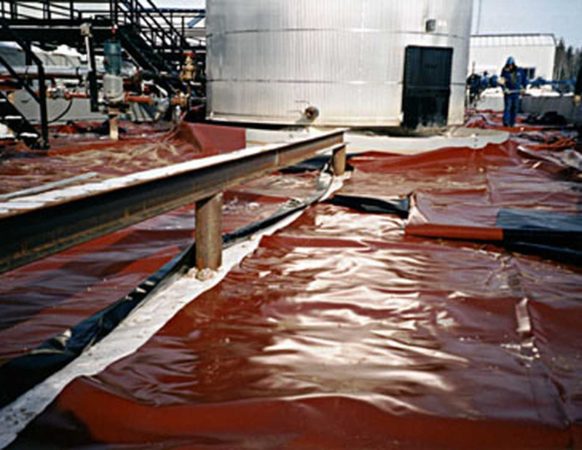 HAZGARD® 1000
A specialized secondary containment liner material specifically designed for fuel containment and the containment of benzene, toluene, and xylene (BTEX) solvents or mixtures containing high concentrations of BTEX-type chemicals.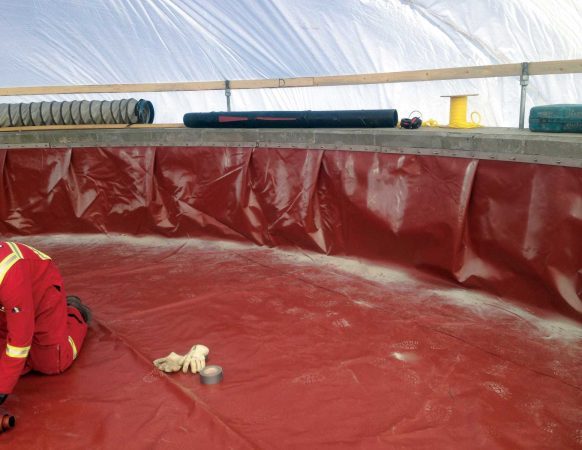 HAZGARD® 5000HT
Layfield's strongest supported geomembrane, HAZGARD® 5000HT, is formulated to withstand continuous temperatures up to 90° C (194° F) and to contain hydrocarbons at elevated temperatures in the event of a spill.
Product Details
Layfield's HAZGARD® brand of geomembranes are specially designed to meet your requirements in secondary containment applications.
Downloads
Specification Sheet
HAZGARD® 635FR Technical Specification
View Document
Specification Sheet
HAZGARD® 1000 Technical Specification
View Document
Specification Sheet
HAZGARD® 5000 HT Technical Specifications
View Document
Product Specifications
HAZGARD® 635FR meets the requirements of ULC/S668-12 Secondary Containment Liners for Aboveground Flammable and Combustible Liquid Tanks. This requirement is included in a number of Canadian Fire Codes in different jurisdictions. HAZGARD® 635FR was extensively tested and passed all the requirements for this guideline. A test report is available to show compliance with this guideline upon request. In cases where the chemical resistance of HAZGARD® 635FR to the liquid to be contained is not known, samples are available for immersion testing. Your representative can assist you in setting up a chemical test.
HAZGARD® 635FR has been tested for both chemical compatibility and permeation performance to the broad range of chemicals required by ULC S668*. This chemical testing included flammable liquids such as gasoline, gasoline mixed with alcohols, and methanol and ethanol. The testing also included combustible liquids such as diesel fuels. Additional tests have shown excellent resistance to biodiesel and biodiesel blends and heavier hydrocarbons such as lubricants. HAZGARD® 635FR is made from plastic resins that are naturally resistant to acids and bases. *Tested to meet the Class I requirements of "ULC S668 Secondary Containment Liners for Aboveground Flammable and Combustible Liquid Tanks."
Resources
Explore the resources available to help you acquire additional knowledge on our products. If you cannot find what you are looking for, we are here to help.