Economical Protection For The Largest Of Ponds
Defined sump floating covers offer an economical solution that outperforms, no matter the conditions. Ideal for larger floating cover applications, a defined sump system is the most versatile and can be adapted to almost any application.
A defined sump floating cover uses floats and weights to create rainwater collection sumps and to accommodate water level fluctuations. This allows for the unique ability to accommodate the influence of wind and rain. As the edges of the cover are weighted, they remain in direct contact with the surface of the water, preventing wind from lifting the cover and causing damage. Rainwater removal pumps move precipitation off the cover, preventing it from overtopping or causing ice formation.
Why Choose a Defined Sump Cover?
Adapts to Water Level Fluctuations
Designed to rise and fall to accommodate changes in reservoir water levels.

Contamination Protection
Reduces chemical demand and improves water quality by preventing rainwater and debris from entering the pond.

Promotes Evaporation Control
Offers complete evaporation control due to its 100% surface coverage.
Additional Features
Blocks sunlight preventing algae and duckweed blooms
Prevents dilution of chemicals from excessive rainfall
It is possible to walk on some covers for easy maintenance
Can be inflated for inspection and cleaning
A premium cover design with up to a 20-year service life
Potable Water Containment
Long-lasting and low-maintenance defined sump floating covers protect our most valuable resource, reducing the need for disinfection chemicals by blocking the sun's rays while protecting against evaporation and contamination from debris.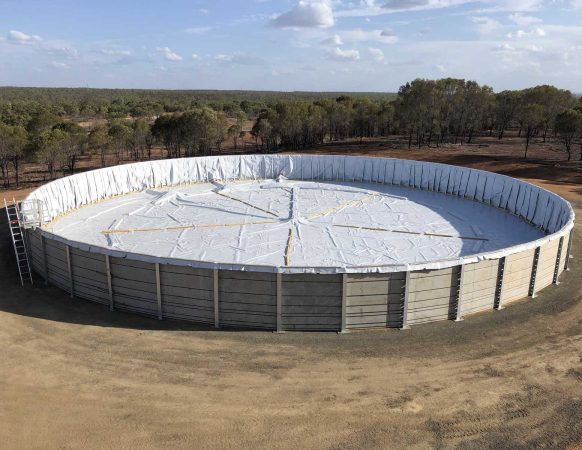 Floating Tank Covers
A defined sump floating cover in a tank application help to control odors, reduce evaporation, and prevent dilution of the tank contents.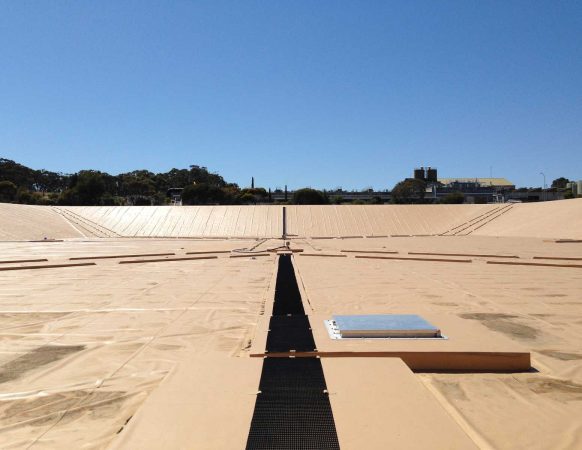 Gas Collection
Using a defined sump floating cover system, you can capture biogas as a renewable energy source.
Product Details
ALayfield's Defined Sump Cover designs, installation techniques, and inspection/maintenance protocols meet local regulations' requirements, such as the AWWA M25 Lining and Floating Cover Guidelines and AWWA California-Nevada Reservoir Floating Cover Guidelines.
Downloads
Resources
Explore the resources available to help you acquire additional knowledge on our products. If you cannot find what you are looking for, we are here to help.
Case Studies
Discover a wide range of completed Layfield projects in various applications worldwide.
Floating Cover for Massive Potable Water Reservoir
Hinkle Reservoir — Potable Water Storage
El Toro Water District R6 Reservoir — HypaFlex CSPE Liner and Floating Cover
Webinars
Our Technical Services Team continuously creates and presents webinars and lunch presentations to better educate our clients. We would be happy to provide you and your group with a customized presentation based on your specific needs. We are also pleased to provide a series of pre-recorded webinars curated for this product group and shown below.