Reliable, Low-Maintenance Potable Water Protection
Protect your valuable resources with low-maintenance, cost-effective solutions. You can't afford to let your water protection fail; choose a tried and tested cover, one that protects time and time again.
Tensioned Floating Covers go beyond the floats and weights system, using mechanical tensioners located in specific intervals around the pond's perimeter to maintain the tension in the cover and keep it in place. The tensioners pull a fold into the cover as the water rises, maintaining tension during fluctuations in water level. This process also creates a sump in the relaxed outer cover perimeter, allowing stormwater to be easily diverted off the cover through a drainage system and preventing damage from possible ice.
What Distinguishes Tensioned Floating Covers From Similar Products?

Tensioners Are Reusable
Tensioners can often be reused after replacing the cover.

Manages All-Weather Precipitation
The tensioned cover design diverts stormwater off the cover through a drainage system in the outer perimeter, making it less susceptible to ice formation.

Promotes Evaporation Control
Offers complete evaporation control due to its 100% surface coverage.
Additional Features
Tensioned Floating Covers are one of the most reliable cover systems
The main panel of the cover is flat and easily cleaned
Blocks sunlight preventing algae and duckweed blooms
Prevents dilution of chemicals from excessive rainfall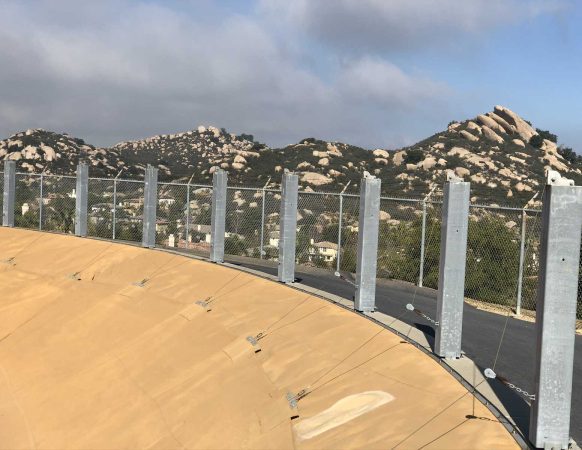 Potable Water Containment
Reliable and low-maintenance tensioned floating covers protect your most valuable resource, reducing the need for disinfection chemicals by blocking the sun's rays while protecting against evaporation and contamination from debris.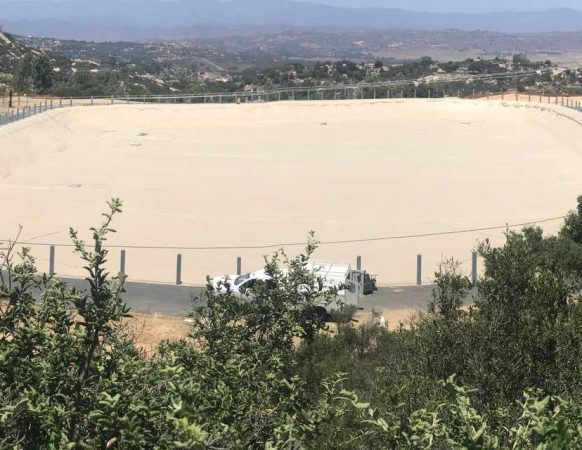 Floating Tank Covers
A tensioned floating cover in a tank application help to control odors, reduce evaporation, and prevent dilution of the tank contents.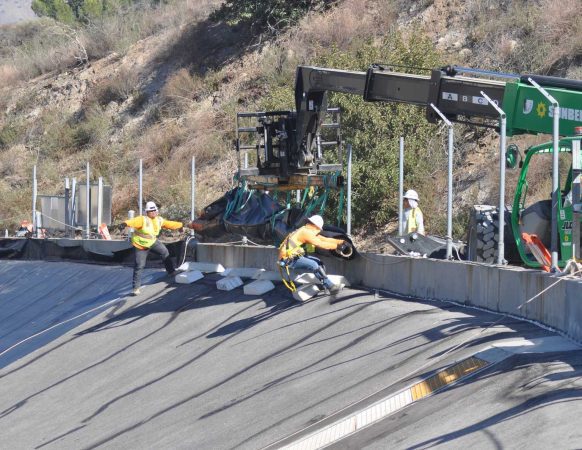 Odor Control
Tensioned covers control odors from wastewater and manure ponds by keeping odor-causing substances from escaping into the environment.
Product Details
Tensioned Floating Covers use cables attached to tensioners to control slack as the cover moves up and down, eliminating sumps on the cover surface and making cleaning and maintenance much more manageable.
Downloads
Resources
Explore the resources available to help you acquire additional knowledge on our products. If you cannot find what you are looking for, we are here to help.
Case Studies
Discover a wide range of completed Layfield projects in various applications worldwide.
Tensioned Floating Cover- Extensive Plant Upgrade
View Case Study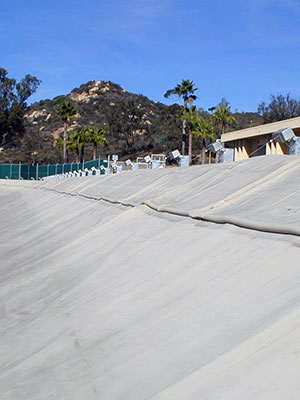 Mount Woodson Floating Cover Replacement
View Case Study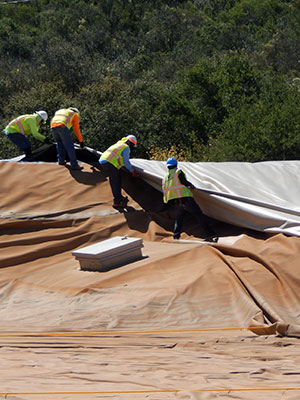 Webinars
Our Technical Services Team continuously creates and presents webinars and lunch presentations to better educate our clients. We would be happy to provide you and your group with a customized presentation based on your specific needs. We are also pleased to provide a series of pre-recorded webinars curated for this product group and shown below.