Q1. What is the difference between an AquaDam® vs. a cofferdam?
A1. The AquaDam® is Layfield's branded product for water-inflated cofferdams. A cofferdam is a generic term for a system used to control water, taking various forms such as water-inflated dams, earthen berms, or filled bulk bag wall dams, etc.
Q2. What is the Layfield AquaDam® Project Assessment (ADPA) form and why do I need to fill it in?
A2. The ADPA form allows Layfield to review the AquaDam® application and conditions for installation. Each application, from standing water in sloughs to fast-moving and deep rivers, is unique. Attempting to divert/control water in a way that differs from the natural ecosystem should be closely monitored.
Q3. Does Layfield handle AquaDam® Installation?
A3. Layfield provides AquaDam® supply pricing only. Onsite technical support by Layfield technicians is recommended based on factors like AquaDam® size, water type, and the client's experience. This support ensures safe and efficient AquaDam® installation.
Q4. What is the limit for AquaDam® Height vs. Max Water Depth?
A4. An AquaDam® can typically hold back up to 70% of its maximum inflated height to create a dry workspace. Exceeding this capacity can make the AquaDam® buoyant and pose safety risks for workers, infrastructure, and the environment. Refer to product charts for precise measurements.
Q5. What is the difference between ideal substrate vs. poor substrate for the seal of the AquaDam®?
A5. An ideal substrate for AquaDam® includes consolidated and uniform silts, clays, and mud. The weight of the AquaDam® will sink itself into the substrate, allowing for very little to zero infiltration beneath the dam.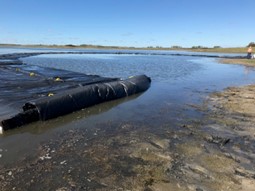 A poor substrate does not inhibit the AquaDam® application, but may affect the dam's seal and overall effectiveness, especially if it contains large cobbles, boulders, vegetation, organic debris, or uneven grading.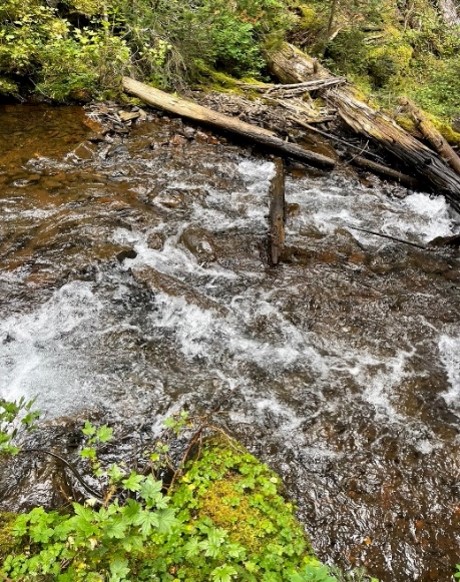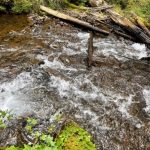 Q6. My AquaDam® only partially filled, what happened?
A6. Filling an AquaDam® is gravity-driven. It will only reach its maximum height when the fill port is at a higher elevation compared to the height of the AquaDam®. Consider using an artificial launch platform to elevate the starting point for filling.
Q7. I had an extra length of unused AquaDam® when I reached the opposite shore. Is that ok?
A7. Having extra unused AquaDam® remaining spooled on the core when reaching the opposite shore is acceptable and does not impact the execution. Ensure that a barrier system (concrete blocks, filled meter bags, etc.) is placed in front and behind the AquaDam® core to prevent further movement once the desired endpoint has been achieved. The dam's length containing water should be filled to the proper filling height as per each dam's listed operational height.
Q8. Can the AquaDam® be reused?
A8. AquaDams are generally single-use construction aid products due to the challenges of dewatering, extracting, and rewinding them in the field. Reusing is typically limited to shorter stock lengths, 3′ and 4′ AquaDams.
Q9. What is the lifespan of an AquaDam®?
A9. AquaDams typically have a lifespan of 1 week to 2 months for most projects. Longer-duration projects may range from 3 to 6 months. UV degradation to the exterior geotextile sheath is the primary determinant of lifespan. Using a sacrificial UV cover can extend the lifespan beyond six months. Refer to winter conditions Q&A below for further details.
Q10. Can AquaDam® be installed in winter conditions?
A10. Yes, AquaDams can be installed in winter conditions. However, it's essential to remove ice fully from the proposed deployment path to the width of the AquaDam's footprint. The AquaDam® should be deployed before the cleared path re-freezes.
Q11. Why does flow rate matter?
A11. Flow rate is a critical factor in AquaDam® applications. As a rule of thumb, AquaDams can handle flow rates up to 1 m/s. Flow rate is usually not a concern in applications like wetlands or small lakes. However, flow rates play a pivotal role in creek/stream crossings, riverbank isolations, large lakes, dam outfalls, and similar scenarios.
Flow rates can be deceptive. Introducing an obstruction that blocks part of the waterbody's width can cause water to move faster and become deeper. The risk of overturning an AquaDam® during deployment is rare but not impossible and should be considered in high-flow applications.
Q12. Can an AquaDam® be used in a non-typical manner (not in a conventional waterbody)?
A12. AquaDams can be used in non-typical applications with creative planning (see example below). Layfield's technical team can evaluate unique applications on a case-by-case basis. Various unconventional uses have been successfully considered, assessed, and completed with AquaDam® assistance, often requiring innovative approaches.
Note: Always follow Layfield's AquaDam® guidelines for safe and effective usage. For specific inquiries or more detailed information, consult Layfield's technical support.

November 16, 2023
Protecting Against Wheel and Track Loads with Woven Turf Reinforcement Mats
Read Article