Get Industry-leading Construction Quality Control Using Electric Leak Location
Geomembranes are the best line of defense to protect your environment and communities from contamination and pollution. Though every precaution may be taken, geomembranes can get damaged during construction or standard operations, resulting in a leak.
Detecting and repairing leaks after installation and throughout geomembrane life cycles is essential. Layfield's Electrical Leak Location (ELL) method uses a sensitive technique that pinpoints existing leaks quickly and accurately, mitigating the potential for sustained contamination. Effective for both exposed and backfilled geomembranes, Layfield performs Leak Location surveys across North America.
What Are The Benefits Of Using A Proper Leak Detection Method?

Easily Detect Liner Limitations
Over 70% of liners can be damaged during cover soil placement due to rocks and heavy equipment. ELL surveys easily detect damage, allowing for proper repair.

Superior Performance
Layfield's Electrical Leak Location method has located many leaks not previously found using conventional methods.

Quality Assurance
As a quality assurance tool, the ELL method is an excellent way to check the overall continuity of a liner system at often half the cost.
Additional Features
The most accurate method of locating leaks
Tests the entire surface of the liner — not just the seams
Works on the base and slopes, even after backfill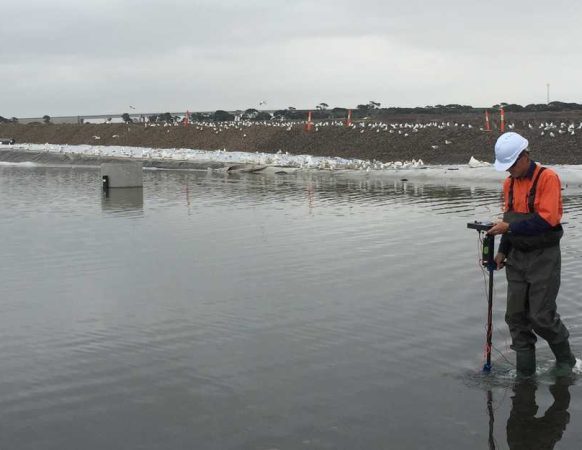 Survey with Water Cover
A leak location water survey is the most accurate method for finding geomembrane leaks. Leaks are located accurately to within 12.5 millimeters (0.5 inches) and immediately marked with sinkers and floats.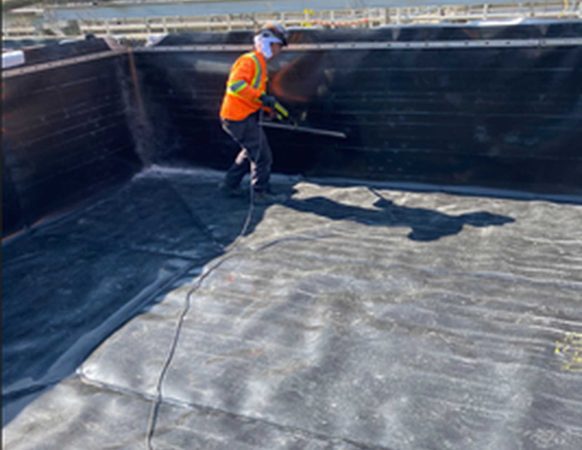 Water Lance or Water Puddle Survey
Both the water lance and water puddle methods work well to test slopes. They do not require large volumes of water; the water is continuously recycled.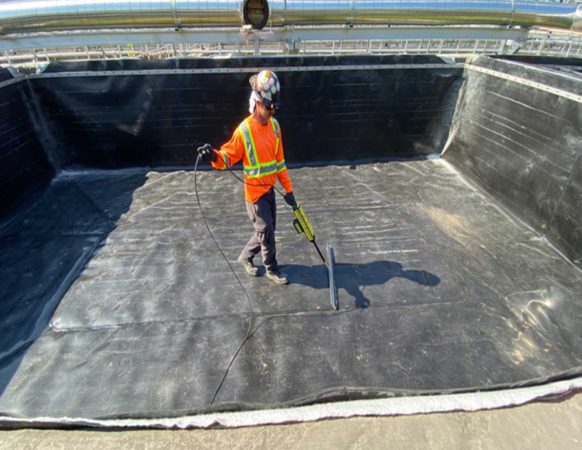 Surveys with Soil Cover
A leak location soil survey of a soil-covered geomembrane liner is a highly effective way to find leaks, including leaks caused when placing the protective soil cover on the liner.
Product Details
The Electrical Leak Location method is a proven technique for finding defects in completed lining systems for repairs, maintenance, or as part of QA testing.
Product Specifications
The Electrical Leak Location method is an accurate performance test of a completed lining system. As a quality assurance tool, it is an excellent way to check the overall continuity of a liner system. The Electrical Leak Location technique is often half the cost of third-party Quality Assurance methods yet provides precise containment verification.
The Electrical Leak Location method has several requirements to ensure accurate and conclusive results. One necessary precaution is eliminating or limiting the electrical grounding points between the inside and outside liner installation. Any electrical path from the surveyed water or soil to the subgrade outside the liner will create a signal that looks like a leak. These ground faults can also be caused by concrete or steel structures within the pond, steel pipe penetrations, batten bars on structures, and soil cover materials that connect to the subgrade. A less obvious but prevalent ground fault is a steel valve body that can be located in a plastic pipe that penetrates the liner. Layfield can assist the designer by supplying details that will eliminate ground faults when designing the lining system.
Resources
Explore the resources available to help you acquire additional knowledge on our products. If you cannot find what you are looking for, we are here to help.
Case Studies
Discover a wide range of completed Layfield projects in various applications worldwide.
ELL Double Lined Tank with Geovolt®
View Case Study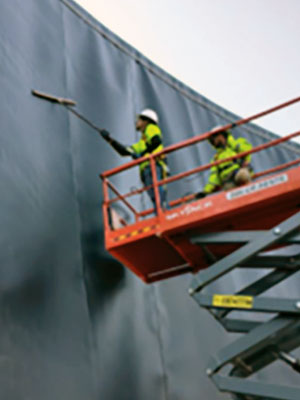 Biofilter Rehabilitation Humber Bay Wastewater Plant
View Case Study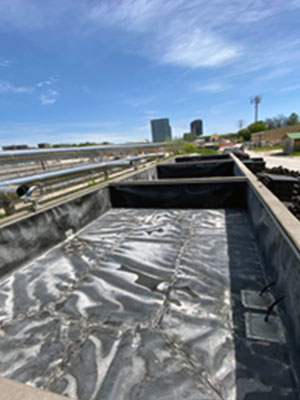 Webinars
Our Technical Services Team continuously creates and presents webinars and lunch presentations to better educate our clients. We would be happy to provide you and your group with a customized presentation based on your specific needs. We are also pleased to provide a series of pre-recorded webinars curated for this product group and shown below.
Electrical Leak Location with GeoVolt
Join Layfield's Technical Product Manager – Containment and Enclosure Systems, in this informative webinar on Electrical Leak Location (ELL). ELL testing on geomembranes has increasingly become the choice for owners, specifiers, and geotechnical consultants around the world. Learn more about Layfield's newest leak detection product, Geovolt™, a conductive composite.