Overview
Layfield's Agriculture Ground Cover products offer a chemical-free solution to weed management in greenhouses. These multi-layer co-extruded products have superior physical properties, including strong resistance to impact and tearing and UV protection. Ground Cover products are available in black/white or single color and can be produced in a range of thicknesses, widths, and lengths to meet specific needs.
Agricultural Ground Covers

Stability Against UV Radiation
We designed Layfield's ground covers to be highly stable against the effects of UV radiation. The material is treated with advanced stabilizers that help to mitigate the harmful effects of UV radiation, preventing it from breaking down the cover over time. This ensures the ground cover maintains its structural integrity and protects the soil and crops.

Environmentally-Friendly
Layfield's ground cover is an environmentally friendly solution for weed management and soil protection. Unlike traditional weed control methods that rely on herbicides, Layfield's ground cover provides a chemical-free alternative that is safer for both the environment and the crops. It also helps to reduce water usage by retaining soil moisture, which can be especially beneficial in drought-prone areas. Furthermore, polyethylene ground cover can be recycled, making it a sustainable solution for farmers committed to reducing their environmental impact.

Insulation Cover
Ground cover is an effective solution for insulating the soil against temperature fluctuations. The cover is a barrier between the soil and external environmental factors, such as wind and extreme temperatures, regulating soil temperature and preventing heat loss. This is particularly beneficial in cooler climates or colder seasons, as it helps maintain soil warmth and promote optimal crop growth conditions.
Additional Features
Provides a barrier between the soil and external environmental factors
Regulates soil temperature, prevents weed growth, and retains moisture
Durable, tear-resistant, and UV-stabilized to withstand harsh outdoor conditions
Available in a range of sizes and thicknesses to meet various needs
Customizable for specific applications
Easy to install and maintain, providing a cost-effective solution for weed management and soil protection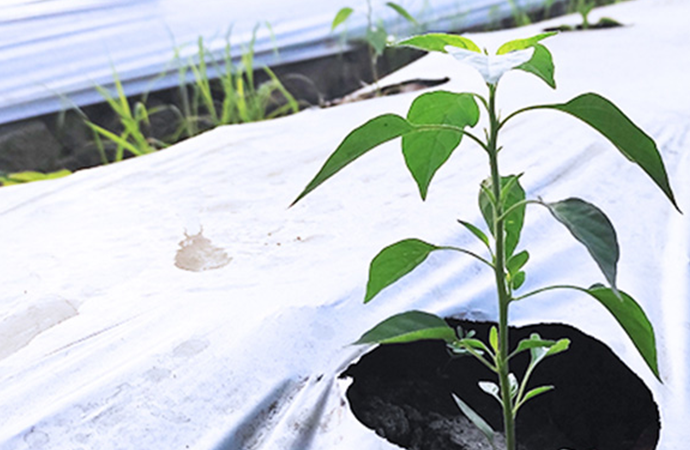 Formats
Our co-extruded film has high mechanical properties and is laid on the ground, where your greenhouse structures cover it. By covering the entire harvesting area, the film ensures isolation, limiting potential contamination of your crop.
Our various formats promote resilient plant growth, allowing them to exceed their expected lifespan.
This film is fully customizable and can be modified into the exact dimensions that fit your packaging requirements.
Ultimate flexibility — make any shape for pouches or bags
Requires less inventory floor space
Customizable barrier options depending on consumer applications
Crop protection

Landscaping

Temperature regulation

Weed control

Moisture retention