Packaging Overview
As dry food consumption has increased, consumers turn to snacks for quick, easy, and accessible nourishment. This poses a unique challenge for manufacturers, as some ingredients require special packaging to remain fresh and delicious throughout their shelf-life.
Our engineers are aware of the unique needs of dry food packaging and are ready to help you with solutions that meet the needs of consumers' fast-paced lifestyles.

Superior Flavour & Freshness
The barrier properties and customizable design features of our flexible packaging play a crucial role in retaining superior flavour and freshness for its contents. Layfield Flexible packaging is designed to provide a barrier between the contents and the external environment. This barrier helps to protect the products from factors that can compromise flavour and freshness, such as oxygen, moisture, light, and external odors.

Customized Barriers
Selecting the appropriate flexible film to maintain a product's quality and freshness is critical. Layfield Flexible films with barrier options can create an optimal packaging solution. To protect against oxygen, moisture, and odors. Choosing barrier options depends on the specific requirements of the product. Layfield has the expertise and experience to custom-design a flexible film for your needs.

Dimensional Stability & Superior Tear Strength
Layfield's flexible packaging is designed to retain freshness and flavour and withstand various handling and transportation challenges. With superior tear strength and dimensional stability, our flexible packaging ensures its contents are well-protected and preserved throughout the distribution process. Its tear strength prevents accidental punctures and tears, while its dimensional stability ensures that the packaging remains intact and undamaged during transportation. Whether shipping pet food across the country or just storing it in your pantry, our packaging offers the durability and reliability to keep your food fresh and secure.
Additional Features
Hi resolutions Rotogravure Printing both sides (up to 12 colours/varnishes)
Customizable formats depending on size and weight
Customizable Barrier properties to improve shelf life
Various sustainable options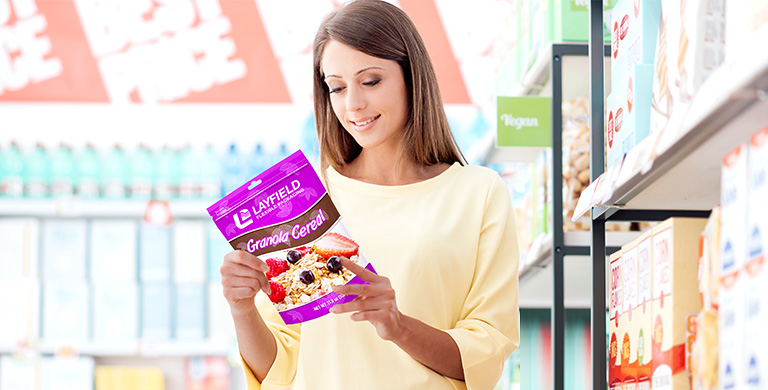 Formats
Flexible packaging has a critical role to play in ensuring that your dry food products are seen and protected in-store, on the shelf, and in consumers' homes.
Our innovative engineering teams are ready to help you navigate your options and discover advanced flexible packaging for the dry food industry. We'll also provide you with a clear path to environmental best practices, and believe in building partnerships for growth.
The stand-up pouch is a very common choice for dry food packaging. The bag contains two panels and a bottom gusset to allow the bag to stand up straight on a store shelf.
Great functionality
Versatility in the variety of products the bag can be used for
Cost-effective
Pinch-bottom bags are the ideal format for medium- to large-content products, and are frequently seen within the dry food section of the pet industry. They are usually displayed lying flat on the product shelf.
Stacks well on top of each other
Provides optimal palletization
Premium look and finishes
Also known as the box pouch, this packaging style can be considered a next-generation format. Constructed from 5 panels, these bags offer benefits similar to the stand-up pouches and have quickly become a popular choice for brands aiming for a premium look.
Premium looks and finishes
Provides great stability
Increased printing surface area for branding
Side-seal pouches are a popular economical choice for brands looking for uniformity and are ideal for smaller, single-serve portion sizes. These bags are formed by sealing the edge perimeters and offer two fully printable panels.
Round edges
Tear notches with perforations
Portable bags, serves one meal
This film is fully customizable and can be modified to form the exact dimensions of your packaging requirements.
Ultimate flexibility — make any shape for pouches or bags
Requires less inventory floor space
Customizable barrier options depending on consumer applications.
Food processors and service operators can place their trust in Layfield for procuring cutting-edge Vertical, Form, Fill & Seal (VFFS) film structures that cater to the needs of your liquid food products.
Higher seal integrity
Can be modified to fit your needs e.g., add a dispensing spout
Customized barriers for required shelf-life
Also available for retort applications
Horizontal form fill is for applications such as bread and chocolate bars.
Gravure printing can create stunning HD graphics to showcase your brand
Available in various shapes and structures to meet your consumers' needs
Optional convenience features for improving user experience
This is a film designed to prevent product from coming into contact with the barrel, which can cause contamination. They are extremely flexible, durable, and resistant, and are also available in a variety of sizes and shapes to fit your unique needs.
Complete protection from external contaminants
Easy to replace and dispose of after use
Cost-effective and practical solution for product protection
Available with a variety of barriers
A type of packaging format designed to be filled and closed automatically on a filling machine. The bag is pre-shaped into a tubular form with an open mouth on one end.
High degree of product protection
High resistance to moisture and pesticides
Ease of handling and transportation
A type of packaging film designed to transport and protect large quantities of bulk materials. They are essentially large bags  that are custom-fit to the inside of a shipping container.
Cost-effective option for transporting large quantities
Ensures complete product safety and top quality
Reduced packaging waste – lower carbon footprint
Cereals & Grains

Granola

Breads & Crackers

Tree Nuts & Seeds

Dry Pasta