Packaging Overview
At Layfield, we help you provide your customers with an enjoyable on-the-go consumer experience with retail liquid packaging. The pre-made packaging offers high-performance barrier materials to meet the many different requirements of concentrated beverage packaging. Let us help you design a product that makes your customer's life more convenient.
Liquid & Beverage Packaging

Excellent Machinability (VFFS)
Layfield's liquid and beverage packaging designs are a versatile and efficient choice for vertical form-fill-seal (VFFS) machines due to their excellent machinability properties. The film is easily adaptable to the rigorous processes of VFFS systems, enabling seamless forming, filling, and sealing operations. Its low coefficient of friction and inherent sealability contribute to faster production speeds, minimized downtime, and reduced waste.

Customized Barriers
Selecting the appropriate flexible film to maintain a product's quality and freshness is critical. Layfield Flexible films with barrier options can create an optimal packaging solution. To protect against oxygen, moisture, and odors. Choosing suitable barriers depends on the specific requirements of the product. Layfield has the expertise and experience to custom-design a flexible film for your needs.

Superior Flavour
The barrier properties and customizable design features of our flexible packaging play a crucial role in retaining superior flavour and freshness for its contents. Layfield Flexible packaging provides a barrier between the contents and the external environment. This barrier helps to protect the contents from factors that can compromise flavour and freshness, such as oxygen, moisture, light, and external odors.
Additional Features
Hi resolutions Rotogravure Printing both sides (up to 12 colours/varnishes)
Customizable formats depending on size and weight
Customizable Barrier properties to improve shelf life
Various sustainable options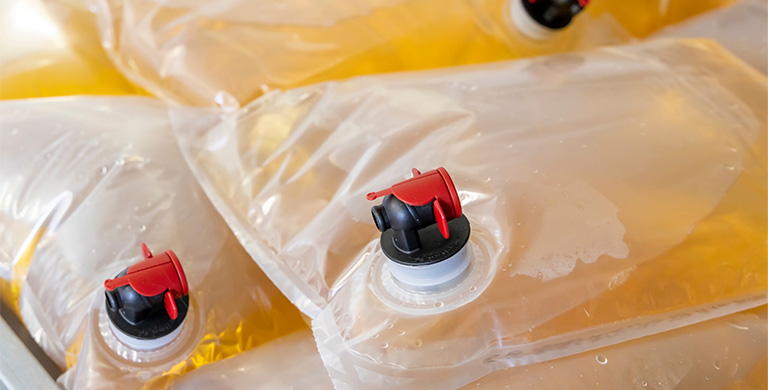 Formats
At Layfield, we bring quality and flexibility together, offering custom shapes, sizes, and high-definition printing for your packaging.
Our liquid food and beverage industry solutions also increase your sustainability profile, reduce shipping costs, and maximize valuable storage space when you switch from rigid containers to flexible liquid pouch packaging.
This film is fully customizable and can be modified to form the exact dimensions of your packaging requirements.
Food processors and service operators can place their trust in Layfield for procuring cutting-edge Vertical, Form, Fill & Seal (VFFS) film structures that cater to the needs of your liquid food products.
Higher seal integrity
Can be modified to fit your needs for example add a dispensing spout
Customized barriers for required shelf-life
Also available for retort applications
Layfield thermoforming films provide outstanding performance when it comes to storing & protecting your products.
Exceptional seal properties
Excellent optical properties
Deep draw formability
Gloss and matte printing features
Layfield lidding films deliver excellent performance to thermoforming films and trays
Seals through contamination, minimizing potential leaks
Performs well with various types of trays or forming films
Maximum film strength to protect your product through distribution
Available in easy peel format
Up to 10 colors gravure printing
Our bags have folded sides that can expand to fit more product volume. By adding these side and bottom gussets you can increase the size of your bag, and when it is being filled, the product weighs down the bag, allowing it to stand up nicely.
This is a film designed to prevent product from coming into contact with the barrel, which can cause contamination. They are extremely flexible, durable, and resistant, and are also available in a variety of sizes and shapes to fit your unique needs.
Complete protection from external contaminants
Easy to replace and dispose of after use
Cost-effective and practical solution for product protection
Available with a variety of barriers
A type of packaging film designed to transport and protect large quantities of bulk materials. They are essentially large bags  that are custom-fit to the inside of a shipping container.
Cost-effective option for transporting large quantities
Ensures complete product safety and top quality
Reduced packaging waste – lower carbon footprint
This packaging is created by filling and sealing the product into a plain flexible package e.g., a gusseted pillow bag. This bag is then dropped into a carton box.
Save on transportation and storage costs
Extended product shelf-life
Customizable to include a spout
Our most popular liquid food packaging is the spout pouch, which ensures your product is ready for the shelves —  standing independently and with eye-catching,  high-quality film and print. Our experts can help you select right spout for your pouch
Stands up on the shelf with stunning graphics
Printing options for an excellent shelf display
Different spout designs for your applications
Juice

Wine & Spirits

Milk