Overview
Layfield's Stretch Hood product is a highly efficient, polyethylene-based film that secures pallet loads without a heat shrink. This revolutionary pallet packaging material is highly elastic; it allows you to stretch it open mechanically, pull it down over your pallet load, and then release the film, resulting in tightly secure protection.
The Stretch Hood film provides a strong holding force with a defense on five sides from water, moisture, and U.V. rays.
Our Stretch Hood film can be customized with anti-static and anti-fog additives for your application. It comes fully U.V. protected to perform as designed in harsh environments.
Stretch Hood film helps you save on consumables used, reduces the time for wrapping, and provides a top-quality finish that adds value to your palletized product.
Industrial Stretch Hood Films

Extremely Strong and Adaptability
Layfield Stretch Hood is a versatile and adaptable packaging solution designed to efficiently handle a wide range of products. Whether you need to package irregularly shaped items or standardized products, it can provide a secure and reliable solution. The unique Stretch Hood design offers 5-sided protection, ensuring your products are fully covered and protected during transportation and storage. With its high-speed performance and flexibility, it can keep up with the demands of today's fast-paced manufacturing environments. Packaging large or small volumes of products, our Stretch Hood can handle the job efficiently and effectively, ensuring that your products arrive at their destination in pristine condition.

Multiple Products for Multiple Applications
Layfield Stretch Hood is designed for the following applications:
Corrugated Products
Bricks & Blocks
Products in stacked pails
Fertilizer & Seed bags
Construction & Industrial Products
Food Products
Chemicals
Transparent: product and bar code visibility

Product Support
Layfield's Stretch Hood program includes a comprehensive product support package to ensure our customers receive the best possible service and assistance. We provide dedicated service technicians to assist with product trials and technical support, guaranteeing our customers receive expert guidance and advice throughout the implementation process. Additionally, we offer inventory stocking programs to help our customers manage their inventory levels and ensure that they have the necessary supplies when needed. To further enhance our commitment to quality and customer satisfaction, we offer a 12-month product warranty on all of our Stretch Hood equipment, giving our customers peace of mind and protection against potential defects or issues.
Additional Features
The hooding process covers the load all the way to the base of the pallet, ensuring stability and protection.
Clear finish helps you easily identify products during transit and storage.
Provides optimal puncture and tear resistance.
Does not need heat to seal, simplifying your packaging and reducing the risk of fires or explosions.
Easy access to your load – cutting and removing packaging is quick and simple.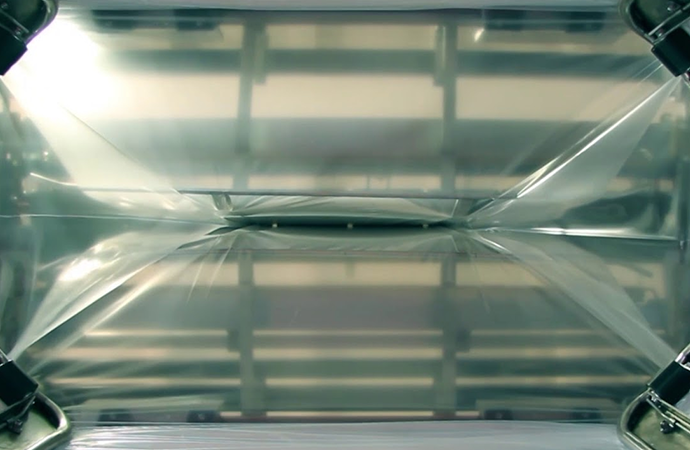 Formats
Stretch hood film is a cost-effective way to pack pallets of various widths. The film works on automated high-speed lines, allowing you to pack more pallets per hour, than stretch wrap.
This film is fully customizable and can be modified to fit your product packaging requirements.
Excellent UV protection
Excellent transparency and clarity for better view of the product
Strong puncture resistant properties
Strong elasticity
Palletizing

Package construction materials

Packaging chemicals & Fertilizers