Overview
Perforated Tear-Off (PTO) bags are convenient for various industrial applications. These bags are widely used in manufacturing environments as box liners, pallet covers, drum liners, H.D. garbage bags, asbestos removal bags, and many other applications.
Layfield has PTO bags in stock sizes, or we can collaborate with you to customize the perfect solution for your requirements, whether that is bags/rolls, clear bags, colored bags, printed or non-printed bags.
WHAT MAKES OUR FILMS SO SPECIAL?
Layfield clear roll bags come pre-perforated for easy tear-off, wound on a strong inner core that fits most roll dispensers. An excellent option for bulky items such as produce, all of our roll bags are made from approved, food-grade PE resin.

Food-Grade PE
PTO bags made with food-grade PE resin are a safe and effective packaging solution for a wide range of fresh produce and other products. Layfield's PE resins are approved by the FDA as a food-safe material, meaning it is a safe packaging format for direct contact with food items. By using PTO bags made from food-grade PE, companies can ensure that their food products are protected without the risk of contamination from harmful substances. The PTO bags' high-quality construction provides superior protection against moisture, dust, and other environmental factors, preserving the freshness and quality of the contents inside. Additionally, PTO bags made from food-grade PE are lightweight and easy to handle, making them a convenient and practical choice for producers and retailers.

Perforated Roll
PTO bags manufactured into a perforated roll offer a convenient and practical solution for packaging needs. Poly bags are available on a roll with a built-in perforation between each bag, allowing for easy and convenient tear-off. The perforated roll also offers effortless dispensing and storage, as the roll can be easily mounted on a dispenser for quick access. The perforation ensures that each bag is separated and ready to use, reducing the time and effort needed to prepare and package products. The roll format is also ideal for high-volume packaging operations, as it allows fast and efficient bagging without needing constant reloading.

Handy & Easy to Use
PTO bags offer a convenient, user-friendly packaging solution that can quickly adapt to various industries and applications. These bags are designed with practicality, offering a lightweight and easy-to-handle construction that makes them ideal for quick and efficient packaging. Whether used in food or other industries, PTO bags provide a universal solution to streamline packaging operations and improve productivity. With their versatility, convenience, and practicality, PTO bags have become popular for many industries and businesses looking for an easy-to-use and reliable packaging solution.
Additional Features
Compatible with automated packaging machines
Tubular construction with a durable bottom seal helps ensure bag integrity
Slit in the front and a perforated back between each film for filing purposes
Color print options with up to 8 colors showcase your branding and design
Optional features such as hang holes can be added based on your needs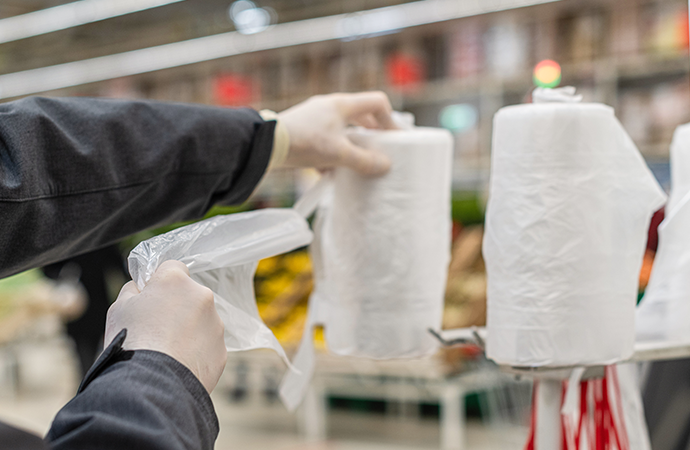 Formats
Layfield's PTO films are available with various customizations, including color options. You can choose between films in clear, white front/clear back, or even add anti-static properties. The customization doesn't end at the bag, and Layfield can create different perforations based on the film's format, package use, and gauge specifications. The perforation holes are typically adjacent to make it easy to tear off each bag.
This film is fully customizable and can be modified to fit your product packaging requirements.
Stock and custom sizes available
Excellent transparency and clarity for better view of the products
Printable
Perforated for easy tear
Bread

Fruit & veggies

Dry nuts