Happy & Healthy, From Nose To Tail
Pets play a meaningful role in our lives, so when it comes to rewarding them, your consumers want only the best treats with maximum freshness and flavor.
Layfield takes pride in the innovation of packaging solutions, from large-format side gusseted bags like Flat Bottom and Pinch Bottom to SUPs; we offer a wide range of customizable products that set the standard for product protection, sustainability, and durability!

Sustainable Packaging
Our sustainable packaging options use less material and require fewer resources to produce and transport than other packaging formats holding similar product volumes. Its versatility and customizability make it an excellent fit for a wide range of products, reducing waste and saving resources. But its most significant benefit is that it can be designed with recyclable content and recyclability, further reducing its carbon footprint. With our PCR and How2Recycle pre-qualified store drop-off options, you can choose our sustainable packaging, knowing that you're making a positive impact for the future.

Maximize Shelf Life
With its excellent barrier properties, our flexible packaging maximizes the shelf life of your pet treats. It creates a sealed environment that protects the contents from external elements compromising their freshness and quality, such as air, moisture, and light. Additionally, our packaging can incorporate venting features such as micro-perforations that enable the escape of gas and moisture to preserve the freshness of a product while still maintaining the integrity of the packaging. By minimizing exposure to harmful elements and incorporating venting options, our packaging ensures that the treats remain fresh for an extended period. With longer shelf life, pet owners can buy in bulk and save money while providing their furry friends with the high-quality nutrition they deserve.

Exceptional Graphics
Customers are often drawn to packaging designs that are visually appealing and unique. A well-designed package can catch a customer's eye and communicate key messages about the product. This is particularly important in a crowded marketplace where many similar products compete for attention. Our packaging offers a canvas for brands to convey their messaging, utilizing various printing techniques, from registered varnishes to specialty matte or gloss finishes, to high-resolution Rotogravure graphics. Stand out on a shelf in a competitive environment and attract your consumers' attention.
Additional Features
High resolutions Rotogravure Printing both sides (up to 12 colours/varnishes)
Clear Product Windows – contents are visible
Customizable bag formats depending on size and weight (8oz to 15 lbs)
SUP, Flat Bottom and Pinch Bottom options
Barrier properties to improve shelf life (if required)
Oil barriers to prevent egress of contents
Various zipper / press to close options
Various sustainable options
Various venting options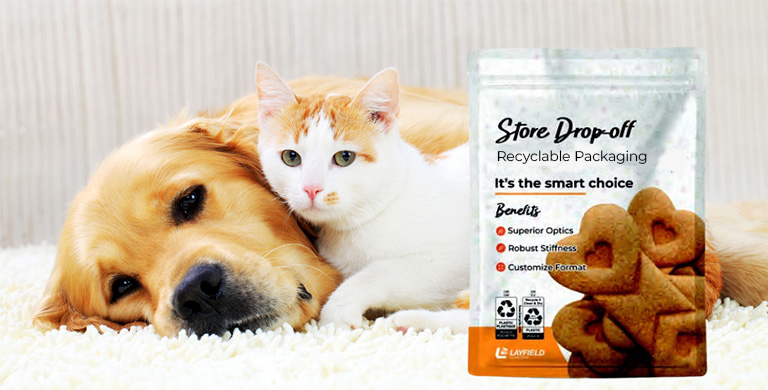 Formats
Pet parents enjoy giving their furry friends tempting and rewarding treats. As a dietary supplement, treats can promote nutrition, dental hygiene, and weight control. Whether they are in the form of biscuits, bones, or chews, your pet treats must be stored in a way that retains their high-quality taste, textures, and nutritional benefits!
Side-seal pouches are a popular economical choice when brands want uniformity. They're ideal for smaller, single-serve portion sizes. These bags are formed by sealing the edge perimeters and offer two fully printable panels for maximum brand storytelling.
Round edges
Tear notches with laser perforation
Portable bags, serves one meal
The stand-up pouch is the 'go-to' packaging format for dry pet foods. The bag contains two panels and a bottom gusset to allow the bag to stand up straight on a store shelf.
Great functionality
Versatility in the variety of products you can use the bag for
End consumer convenience
Also known as the box pouch, this packaging style is considered as a next-generation format. Constructed from 5 panels, the bag offers similar benefits as the stand-up pouch and has quickly become a popular choice for brands aiming for a premium look.
Uses fewer materials
Provides great stability
Increased printing real estate
Pinch-bottom bags are the ideal format for medium to large content-sized products. They are frequently seen within the dry food section of the pet industry and are usually displayed lying flat.
Stacks well on top of each other
Provides optimal palletization
Premium look and finishes
This film is fully customizable and can be modified into the exact dimensions that fit your packaging requirements
Ultimate flexibility — make any shape for pouches or bags
Requires less inventory floor space
Customizable barrier options depending on consumer applications.
Layfield thermoforming films provide outstanding performance when it comes to storing & protecting your products.
Exceptional seal properties
Excellent optical properties
Deep draw formability
Gloss and matte printing features
Jerky

Biscuits

Tripe sticks

Mini bones