Unlock the Secrets to Premium Pet Food Packaging
Are you ready to take your pet food packaging to the next level?
Embark on a journey with us to discover how to craft packaging that stands out on the shelf and resonates with discerning pet owners.
Discover Your Ideal Packaging Strategy
Elevating your brand begins with the right strategy. Our exclusive checklist is your first step towards packaging perfection. Assess your brand, explore innovative options, and align your vision with the ideal packaging solutions.
Access the guide and checklist here.
Printing & Visual Effects
Dive into the world of vibrant visuals and captivating effects. Learn how high-definition rotogravure printing can transform your packaging into a work of art that grabs attention and doesn't let go.
Packaging Materials
Discover the alchemy of combining the right materials to protect and present your product. We'll guide you through selecting materials that speak quality and luxury to your customers.
Sustainable Packaging
Eco-friendly doesn't mean compromising on style. This section will show you how to marry sustainability with premium design, using materials that care for the planet as much as they do for your brand image.
Packaging Formats
Explore a variety of premium packaging formats that not only look great but also function seamlessly, enhancing user experience and shelf presence. This includes flat-bottom bags,  pinch-bottom bags, stand-up pouches, and more!
Packaging Features
Convenience is king in the consumer's world. Learn about innovative features such as resealability, easy opening, and special venting that can set your packaging apart and make it a consumer favorite.
Customer Service
At Layfield, we believe exceptional products deserve exceptional service. This section outlines our commitment to supporting your vision from concept to creation, ensuring a smooth journey to premium packaging success.
ACCESS PET FOOD PACKAGING DESIGN
Discover the secrets to premium packaging that captivates customers and sets you apart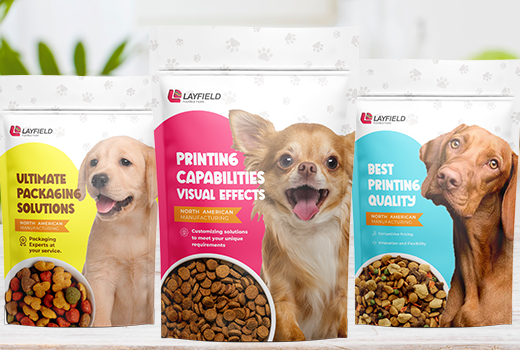 Your choice between premium branding and commoditization hinges on your unique business goals, target market, and overarching brand strategy.
Ready to Revolutionize Your Packaging?
Connect with Layfield today! We are poised to bring your vision to life with cutting-edge materials, creative designs, and eco-conscious options.
Join us on this exciting journey to forge unforgettable brand experiences. Get in touch now and let's make packaging magic happen.